3KW 48VDC Battery Backup UPS Home Inverter
3KW 48VDC Battery Backup UPS Home Inverter
Prostar

Guangdong

10-15 days

10000 pieces per month
1. High quality pure sine wave output power.
2. Convert DC electricity to AC electricity.
3. Long battery backup autonomy power supply applied to protect the equipment from power outage.
4. Low frequency line interactive UPS design concept with isolation transformer.
5. Superior load impact resistance capacity, keep ups operation stably and efficiently.
6. Multiple perfect protect function: over-voltage, over-load, short-circuit protection.
7. Stablize voltage and remove power sags, power surges, line noise, high voltage spikes, harmonic distortion and so on.
8. Applied to computer, network, IT equipment and home appliances.
Quick Details:
Product name: Line Inverteractive UPS

Battery Type:Lead Acid Battery

Display:LCD

Application:Home Application

Capacity:3000VA/1800W

Wave Form:Pure Sine Wave

High Technology:All Digital Control

Transfer Time:4ms

Protection:Over-current, Over-voltage, short-circuit protection

Warranty:12 Months

Output Type:Single phase

Type:DC/AC Inverters

Place of Origin:Foshan, Guangdong, China

Brand Name:Prostar

Input Voltage:100/110/120/127/220/230VAC

Output Voltage:100/110/120/127/220/230VAC

Charging Current: 40A Max

Battery Voltage: 12VDC

With Battery Cable: Yes

Output Frequency:50/60Hz

Size:472x190x330mm

Inverter Efficiency:0.8

Certificate:CE

Warranty:1 year

Weight:27.8KGS
Supply Ability:
Supply Ability : 10000 Pieces per Month
Packaging & Delivery
● Packaging Details
1. Cartons on pallet.
2. Make the compound board around the carton.
3. Use the stretch wrap to protect the pallet.
● Port:Foshan, Guangzhou, Shenzhen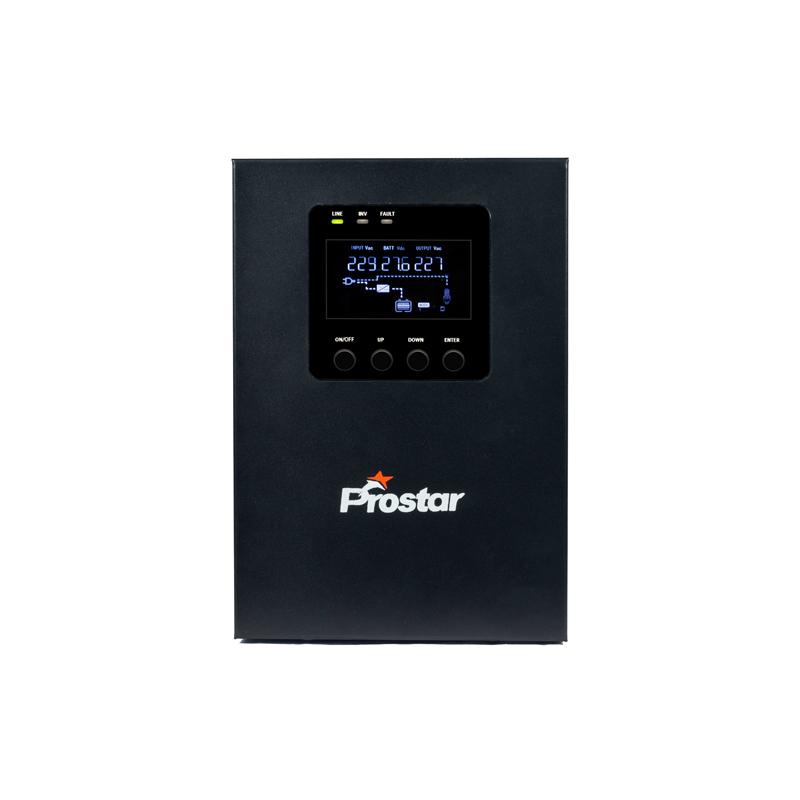 This Line Interactive UPS have many advantages:
PLT3K 3KW 48VDC Battery Backup UPS Inverter Power Inverter
Arbitrary choice of two working modes.

It can be connected with generator.

Large AC charging current, to meet customer requirements for fast charging.

Adjustable AC charging voltage, to adapt to different types of batteries.

Adjustable AC charging current, to meet the different capactity of the battery.

Reserved DC output and USB charging interface, to adapt to use of DC load.
Technical Specifications:
PLT3K 3KW 48VDC Battery Backup UPS Inverter Power Inverter
Model

PLT0.5K

PLT1K

PLT1.5K

PLT2K

PLT2.5K

PLT3K

PLT4K

PLT5K

PLT6.5K

PLT8K

PLT10K

PLT12K

PLT15K

AC Input

Voltage Range

100/110/120/127/220/230VAC(+25%,-36%)

100/110/120/127/220/230VAC(±25%)

Frequency Range

50/60 Hz ± 2.5Hz

Output

Rated Power

300W

600W

900W

1200W

1500W

1800W

2400W

3000W

3900W

4800W

6000W

8000W

10000W

Instantaneous Power

900W

1500W

3000W

3600W

4500W

6000W

7200W

9000W

12000W

15000W

18000W

24000W

30000W

Wave Form

Pure Sine Wave

Battery Efficiency

81%

83%

85%

88%

AC Efficiency

93%

Output Voltage

100/110/120/127/220/230VAC (AC mode ±10%, Battery Mode ±5%)

Output Frequency

50Hz/60Hz± 0.5Hz ( AC Mode ± 2.5Hz)

Transfer time

4ms/8ms Optional

USB Output

DC 5V/1AX 1+5V/2AX 1 ( Optional)

Connector

Input/Output

Input power cable, 2pcs output sockets

terminals +1 pc output socket

Input & Output terminals

Battery

Terminals

Battery

Voltage

12V/24Vdc

24Vdc

24V/48Vdc

48Vdc

96Vdc

Charging Current

1-20A Adjustable

2-40A Adjustable

1-20A Adjustable

LCD

Method

LCD+LED

Content

Input/Output Voltage, Battery Voltage, Battery Capacity, Load Capacity, Working mode, Frequency

Protection

Battery Reversal

Optional

Output Short Circuit

AC mode: Jump fuse, Inverter mode: Shut down

Overload

If Overload 105%, Inverter will alarm.lf Overload 130%, Inverter will shut down in 10s.




Once the inverter is off, It must be turned on manually

High AC Voltage

Turn off AC,Turn to Inverter mode automatically

Low DC Voltage

Inverter will shut down automatically,Once the AC recover, Inverter will turn on and charge automatically

Over Temperature

Inverter will alarm and turn off output but it will recover to normal state after cooling down

Environment

Humidity

15-93% ( No condensation )

Temperature

-10℃~50℃

Altitude

≤3000m

Communication

RS232(Standard),USB,RS485,SNMP( Optional)

Machine Dimension: DxWxH(mm)

381x145x210mm

472x190x330mm

535x280x575mm

Packing Dimension: DxWxH(mm)

490x485x335mm(2pcs/ctn)

588x310x452mm

660x405x750mm

Weight

N.W.(KGS/PC)

7.0

7.1

11.9

12.0

12.9

21.1

25.5

27.8

32.3

38.6

50.4

48.5

50.5

G.W.(KGS/PC)

7.6

7.9

12.8

12.8

13.7

23.6

27.3

30.3

33.6

42.6

54.4

53.5

55.5
Line Interactive UPS Product Detail: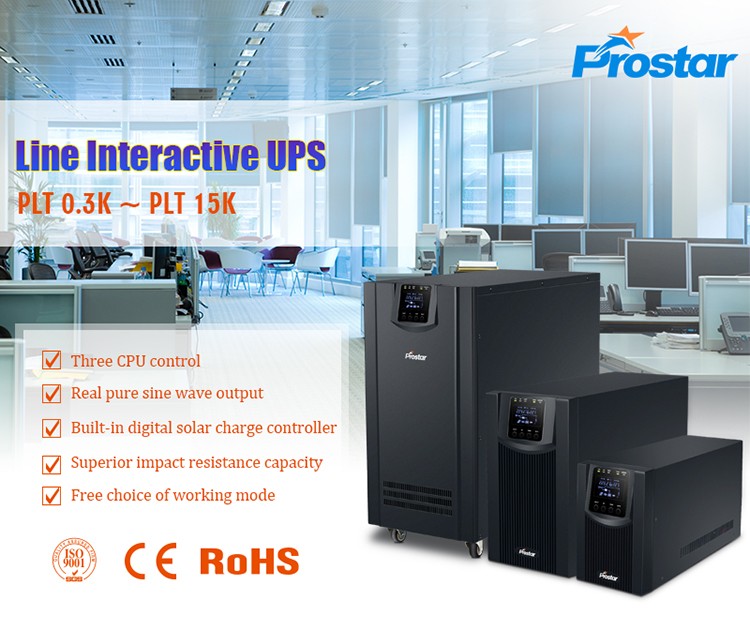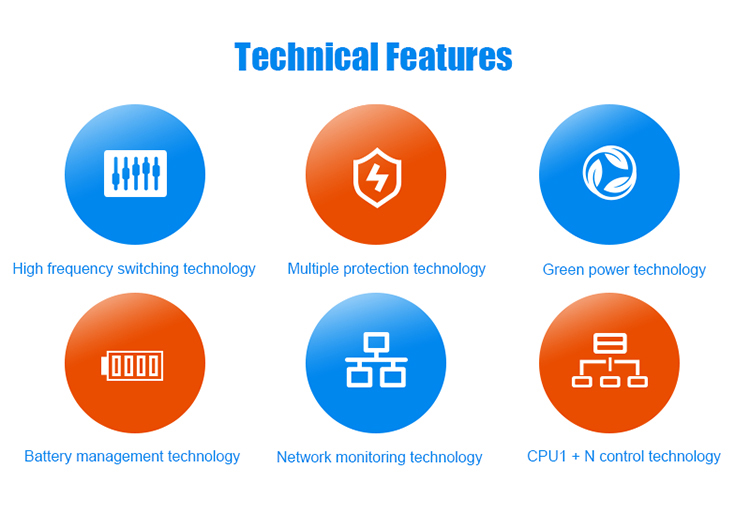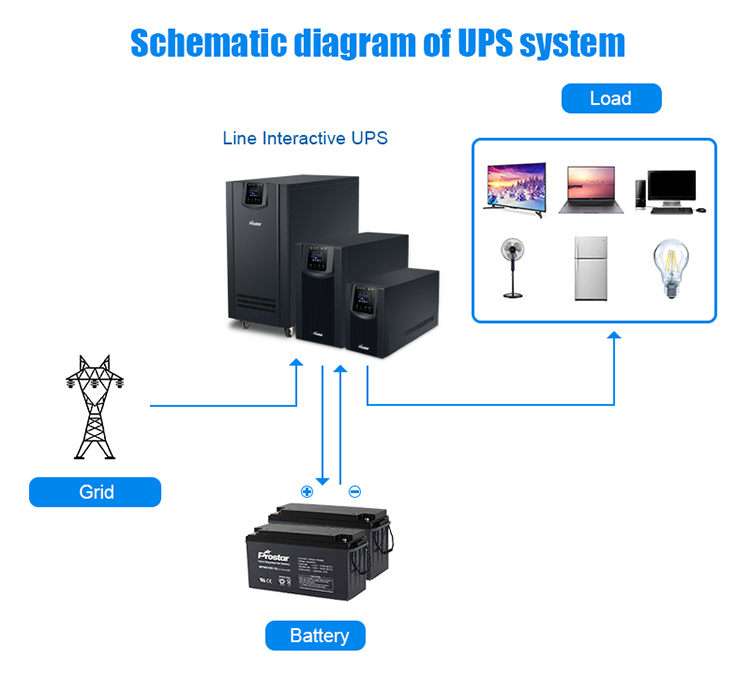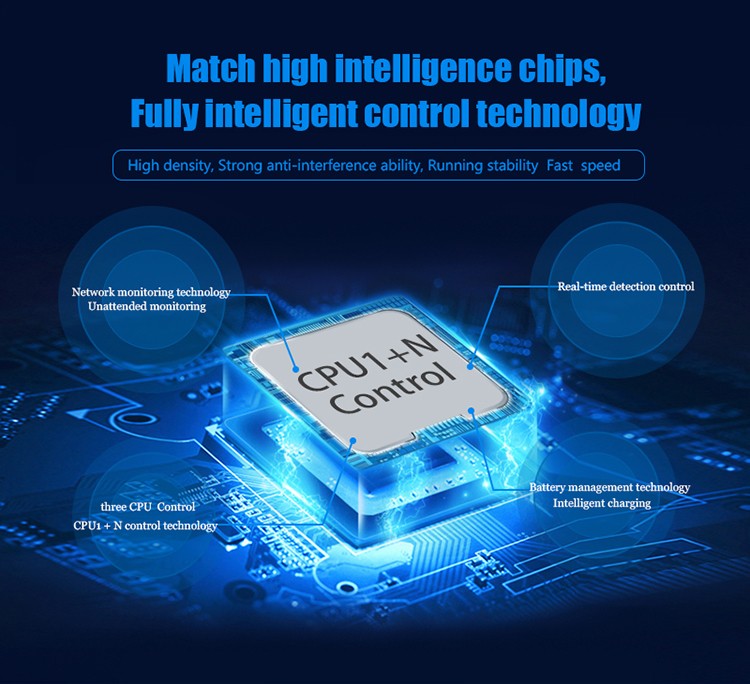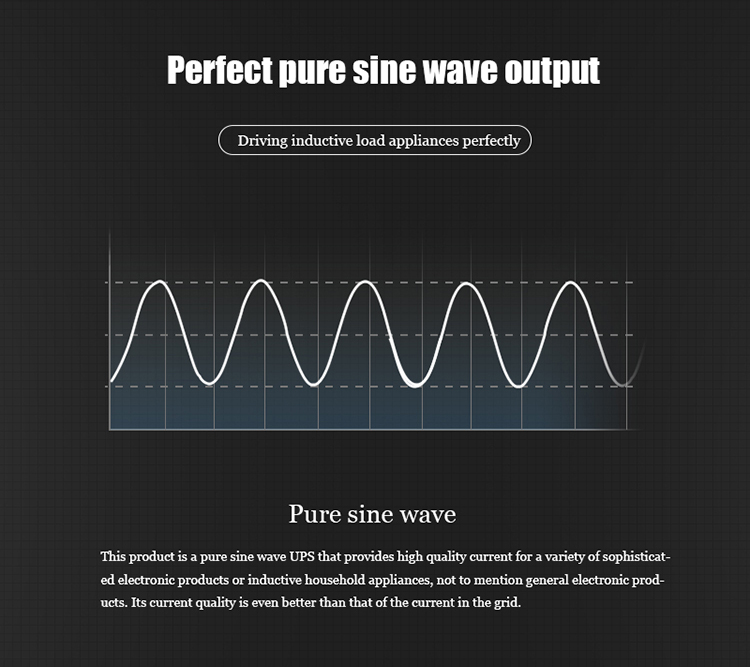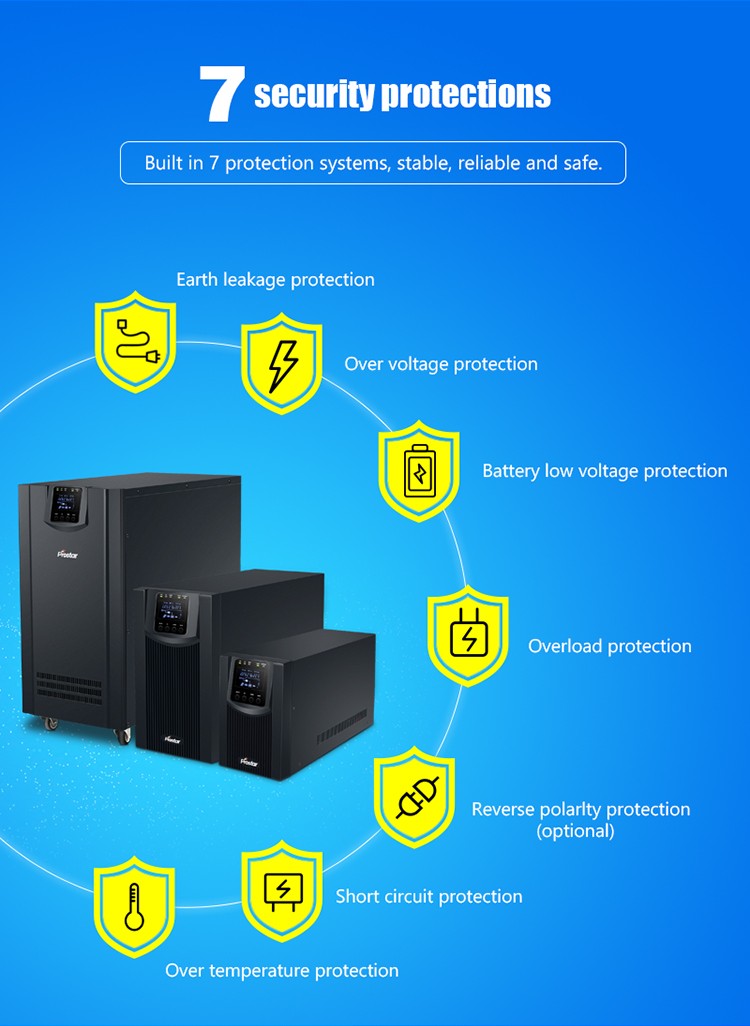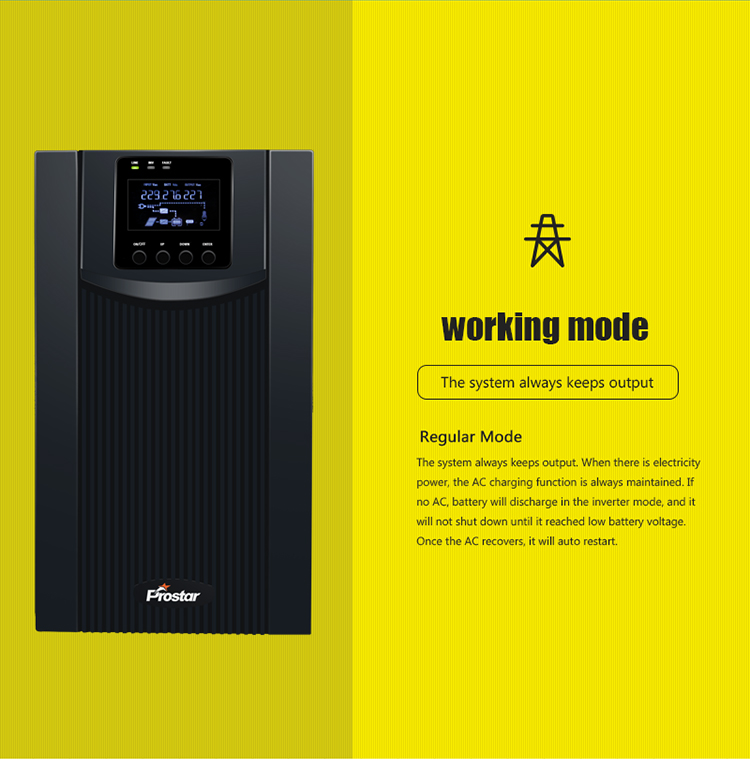 Company instruction:
We have exported the products with excellent quality, reasonable price and the considerate after-sales service to more than 80 different countries and regions since 2000.

Prostar mainly produces three phase and single phase online U P S from 1 kva to 500kva, Solar Inverter from 300watts to 10000watts, and Solar Panel from 30 watts to 400watts.
Our advanced and professional technology, complete production lines, experienced staff and strict corporate system ensure our products quality. We provide the whole UPS system solution for Health care, Telecommunications service, Securities & machine room, Data center and Factory facilities etc. We believe that the quality, price and service are equally important to ensure the long-term success of overseas purchasing programs. We also have strong R and D, Q C and Testing Department. Prostar is always emphasizing quality control. All of our products have been certified to C E and RoHS.
Prostar also could supply customized products and solutions to meet your special demand. Meanwhile, we could provide O E M / O D M production and service for our clients.
Welcome to contact us for more further information.